Tank Billow V2 là RTA (Rebuildable Tank Atomizer) mới được Ehpro đồng thiết kế và sản xuất với Eciggity. Sản phẩm có nhiều tính năng được cải tiến so với Billow V1. Đường kính tank đã được nới lên 23mm vì nhà sản xuất muốn giữ lại dung tích chứa 5ml của V1.
Phần đầu hút đã được rút ngắn lại, con vít chỉnh lỗ gió và vít bottom fill đã bị tháo bỏ. Nhà sản xuất đã thêm một vòng khí và phần thân đã có thể dễ dàng tiếp xúc mà không cần phải đổ hết tinh dầu đang chứa trong tank. Dù Billow V1 có khả năng lên vị tốt, cũng có thể tạo ra nhiều khói , nhưng nó lại mắc chứng rò rỉ tinh dầu rất nặng thêm vào đó là phần vít chỉnh lỗ gió rất khó dùng. Câu hỏi được đặt ra là, liệu Billow V2 đã xử lý hết các vấn đề đó và có thực sự là một sản phẩm xứng đáng được chọn mua?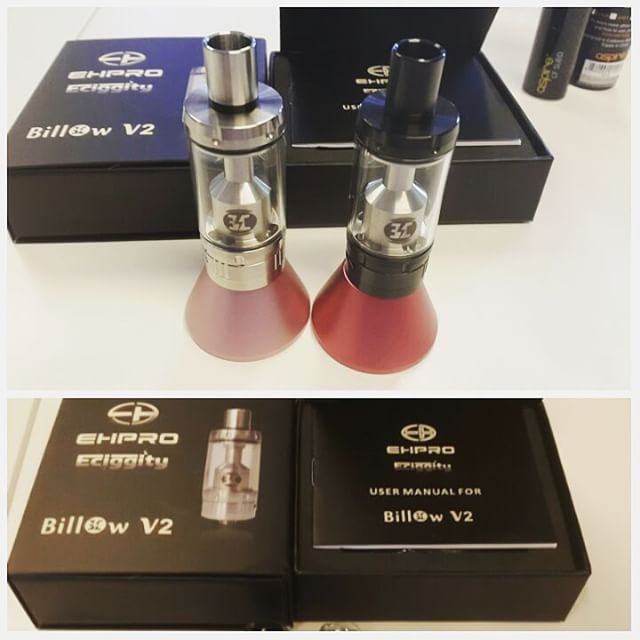 Billow V2 Features:
Stainless steel construction.
Pyrex tank.
Coils can be rebuilt without emptying the tank.
No more airflow screws.
AFC ring now has a bigger airflow holes.
PEEK insulator.
Wide bore delrin drip tip.
5ml Capacity.
Tank is 22mm diameter. Tank glass is 23mm.
PEEK insulator.
4 post deck.
4 deep juice channels.
Chimney height reduced over the Billow V1 for increased flavour.
Adjustable copper 510 connection.
Deck is designed with cotton grooves for easy wicking placement.