Happy Women's day 8/3 - The Vape Club Sale up to 40%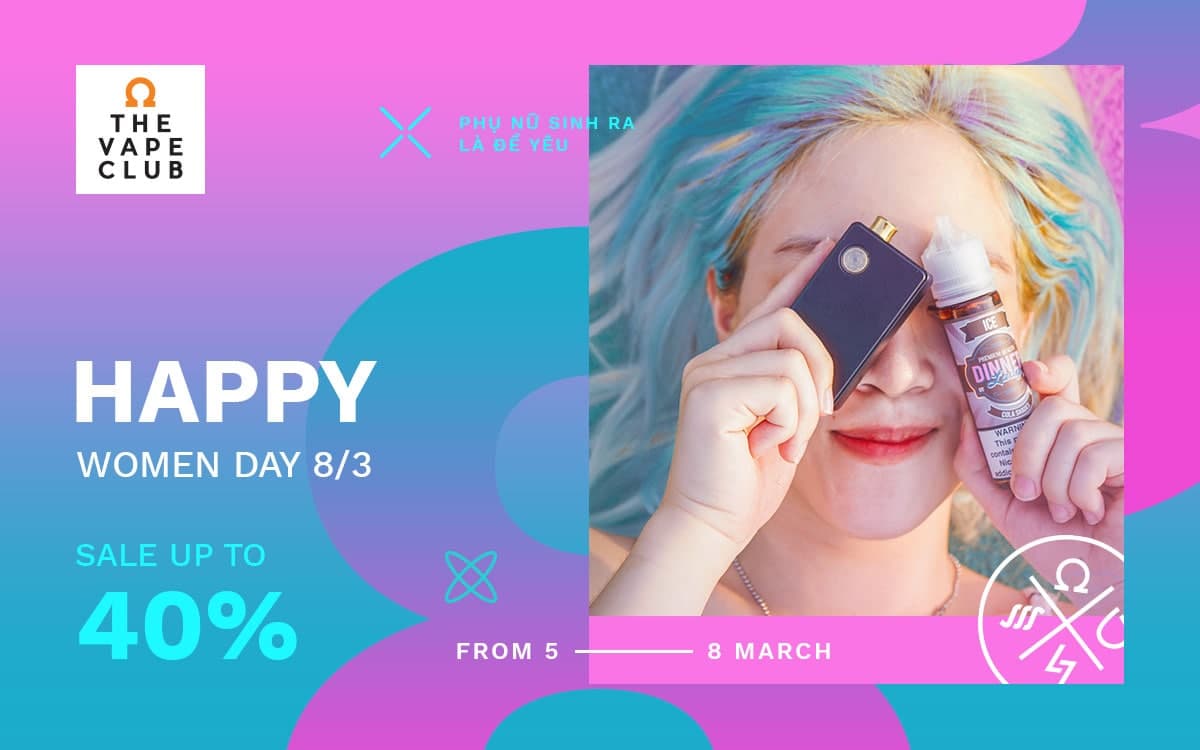 Tháng 3 về cùng nắng và hoa với ngày dành cho "một nửa thế giới" - Ngày Quốc tế Phụ Nữ 8/3. Các vaper đã chọn được món quà nào để dành cho người phụ nữ tuyệt vời của mình chưa? Hãy cùng The Vape Club chiều chuộng "một nửa thế giới" của bạn bằng những lời chúc đầy yêu thương và những món quà ý nghĩa nhé!
SALE OFF 10% TẤT CẢ CÁC SẢN PHẨM
- Thời gian: từ 5/3- 8/3
- Áp dụng trên tất cả hệ thống cửa hàng The Vape Club toàn quốc
- Đặc biệt đơn hàng của các vaper nữ trong thời gian từ 5/3 đến 8/3 sẽ có cơ hội nhận quà tặng.
"LUCKY WOMAN"
Nhân dịp 8/3, The Vape Club sẽ tổ chức chương trình "Bốc thăm may mắn dành cho phái đẹp" trúng thưởng 100%, giá trị lên tới 7.OOO.OOO/VND cho tới khi hết quà tặng vào ngày Thứ Tư (10/3) qua hình thức livestream trên fanpage của chúng tôi.
Những phần quà hấp dẫn thay cho những lời chúc tốt đẹp nhất mà The Vape Club dành tặng chị em trong dịp đặc biệt sắp tới gồm:
+ 1 giải nhất: Hannya Milky Pod
+ 2 giải nhì: Uppen Pod
+ 20 giải ba: Rodeo Disposable
Ngoài ra, The Vape Club còn tổ chức chương trình "SALE UP TO 40%" một số sản phẩm hot nhất hiện nay mừng ngày 8/3: https://thevapeclub.vn/collections/sale-khuyen-mai-gia-re-vape-pod
Lưu ý: chương trình Buy More Get more tạm dừng từ 5/3- 8/3.
Chúc tất cả chị em có một ngày 8/3 ngập tràn hạnh phúc và yêu thương.
.
P/S: Các bạn đừng quên theo dõi Facebook của TVC (https://www.facebook.com/thevapeclub.vn) để tham gia chương trình GIVEAWAY với sản phẩm DotBox 220W mới toanh vừa ra lò của nhà sản xuất DotMod nhé!
Chia sẻ