Gcore Rodeo 1600 puffs
Gcore Vape -
950mAh -
6ml -
Disposable Mod -
CN -
Share

Một chiếc pod dùng một lần có thời gian sử dụng được siêu lâu, tinh dầu siêu xịn và lên vị cực đã? Xin giới thiệu cho bạn con quái vật Rodeo Disposable Pod của Gcore Vape, được tin dùng và sử dụng bởi đích thân Lil' Shady - vị giám khảo đầy phong cách của chương trình King of Rap trên sóng truyền hình.
Điều gì đã làm cho Lil' Shady ngất ngây trong những ngày đầu thu?
Rodeo Disposable là bom tấn pod dùng 1 lần ra mắt vào đầu mùa thu 2020. Nếu là một vaper đam mê sự tiện lợi của pod dạng disposable, bạn tuyệt đối không thể bỏ qua chiếc pod mod tuyệt vời này.

Rodeo được thiết kế theo hình trụ vuông, thân dáng thon dài, gọn gàng cùng bề mặt được phủ lớp cao su mềm trơn nhẵn. Lớp sơn cao su không chỉ tạo cảm giác cầm thoải mái, còn giúp tạo độ bám, giảm bớt trường hợp trơn tay làm rơi thiết bị. Kích thước của Rodeo chỉ vừa lòng bàn tay, trọng lượng khá nhẹ nhàng, dễ mang theo, thích hợp cho việc sử dụng hằng ngày cũng như những chuyến đi chơi.
Với anh, sản phẩm này lên hương vị rất thích, đậm đà mà lại không gây khé cổ họng. Cuối cùng thì cũng tìm được 1 sản phẩm vừa thời trang, lại tiện dụng anh có thể nhét vào trong túi để mang đi trong những chuyến lưu diễn của mình.

- Lil' Shady
Đúng thế, ưu điểm lớn nhất của Rodeo không nằm ở thiết kế của nó, mà nằm ở ngay nội lực được Gcore chăm sóc tận răng. Để tối ưu trải nghiệm cũng như thời gian sử dụng cho người dùng, Gcore đã trang bị bình tinh dầu và lượng pin cỡ đại cho Rodeo, dung lượng tăng gần gấp 3 so với disposable thông thường. Dung lượng pin 950mAh, dung tích pod 6ml với đủ vị tinh dầu tùy chọn, tổng hơi hút mà bạn có thể dùng được trên Rodeo là 1600 hơi, hơn nữa, do tinh dầu bên trong có lượng salt nic lên đến 50mg nên bạn sẽ cần một thời gian khá lâu mới sử dụng xong 1 thanh Rodeo. Gcore đã tính toán rất khéo léo để tinh dầu vừa hết là pin của Rodeo cũng cạn theo, bạn không hề lo mình sẽ dính dry hit hay gì nhé.
Với những ưu điểm như vậy, Rodeo hoàn toàn có thể trở thành một trong những chiếc disposable được săn đón nhất sau khi ra mắt. Một điểm cộng nữa là dù với dung tích khủng như vậy, giá của chiếc disposable này cũng không xê xích hơn bao nhiêu so với những chiếc disposable khác. Chỉ với 200.000VND là bạn đã sở hữu ngay một chiếc Rodeo Disposable rồi. Bạn có thể chuẩn bị sẵn vài thanh Rodeo với những hương vị khác nhau để sử dụng trong các hành trình di chuyển, thoải mái lại không vướng víu.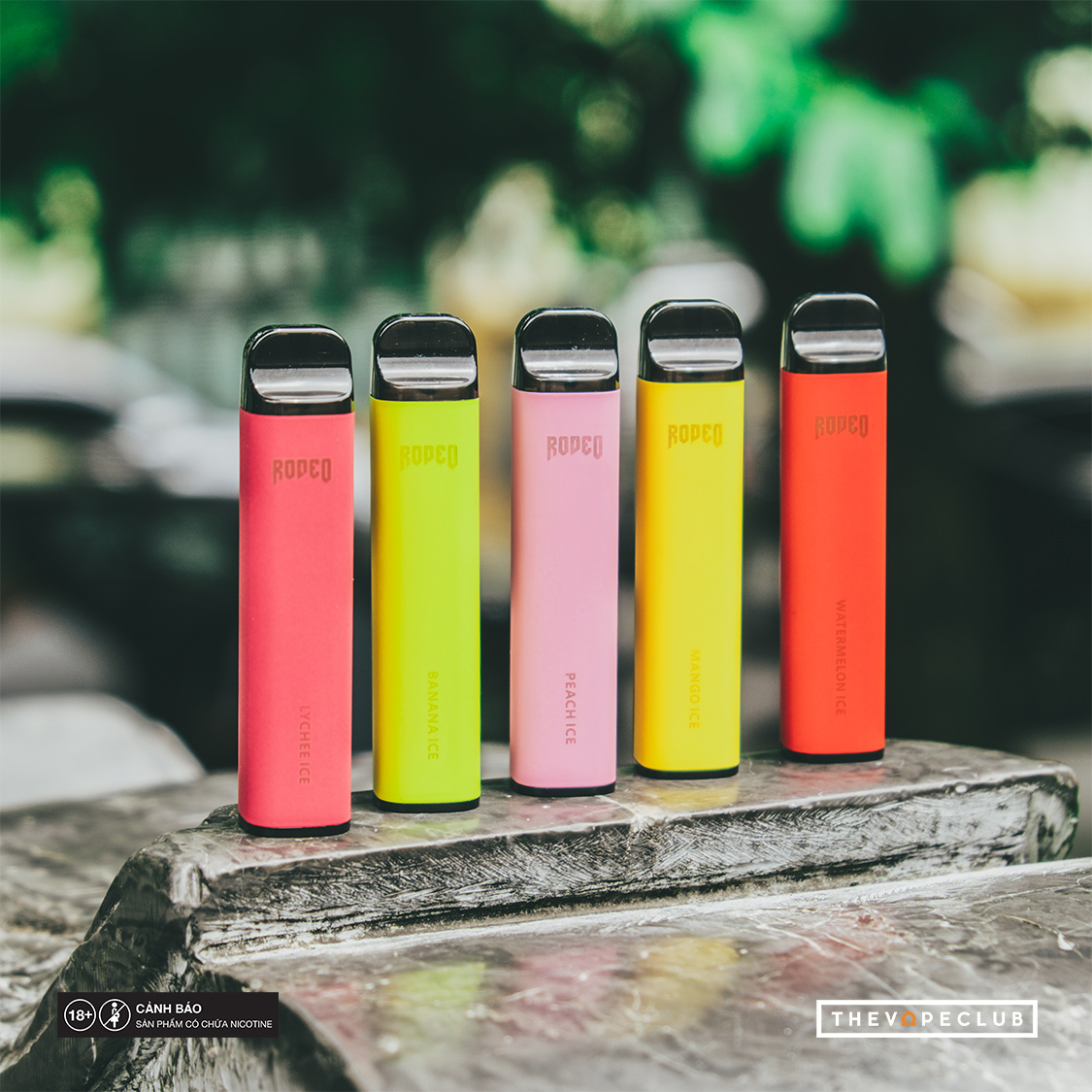 Kiểu hương vị Gcore đã đo ni đóng giày cho Rodeo là tổ hợp hoa quả lạnh quen thuộc mà vẫn thật hấp dẫn, bạn có thể lựa chọn 1 trong 12 vị mà hãng cung cấp để thưởng thức.
Watermelon Ice: Dưa hấu lạnh.
Banana Ice: Chuối lạnh.
Peach Ice: Đào lạnh.
Mango Ice: Xoài lạnh.
Lychee Ice: Vải lạnh.
Melonberry: Dưa hấu dâu lạnh.
Wildberry: Việt quất dâu lạnh.
Fiji Fruit: Dứa dừa lạnh.
Juice Fruit: Chuối táo dâu lạnh.
Frozen Guava: Ổi lạnh.
Red Bean: Đậu đỏ
Milk Tea: Trà sữa
Bạn còn chờ gì nữa, hãy cùng trải nghiệm sức hút mãnh liệt đã thuyết phục được vị giám khảo đầy nội lực Lil' Shady nhé!
Tham khảo review của The Vape Club:
Lưu ý:
Mọi thông số cung cấp đều được tham khảo thông tin từ hãng.

Sản phẩm chỉ dành cho người trên 18 tuổi.

Tránh xa tầm tay trẻ em.

Sản phẩm chỉ dùng được 1 lần.
Thông số
Kích thước (mm)
93 x 25 x 25
Đánh giá tổng quan
Độ thấm dẫn

Độ bí

Hoàn thiện

Thiết kế

Lượng khói

Độ đậm vị

Cảm giác cầm

Chất liệu

Độ gắt

Đáng giá tiền

Độ bền

Thời lượng pin
4.2

overall score
4.2

Tổng điểm

Mua ngay
Các sản phẩm đã xem trước đó